Engage Fans and Book Gigs: Powerful DJ Website Features
7/19/23 | Maurice Wingfield
TLDR
The web is the obvious place to promote your DJ business, but the sheer number of platforms and tools can be intimidating. In this post, I do a deep dive into what features provide value to your business, some of the available products to meet your needs, and even some insights into how to get the most bang for your buck.

Whether you already have a website and are looking for ways to optimize or you are starting from scratch building out a web presence for you DJ business, This blog post will cover lots of ground. If there's a quesion on your mind that you don't see addressed here, please don't hesitate to let us know using the contact form below. This guide is organized around a list of features useful to the promotion of a professional DJ business. The list is ranked from simplest to the most complex to provide.
Analytics & Insights
Social Media Integration
Event Calendars/Schedules
Music Playlists
Push Notifications
Merchandise Sales
Loyalty/VIP Access
Booking/Requests
Live Streaming
Feature Analysis
The chart below shows each feature and positions it relative to two axes: cost to implement and value to your website visitors. This results in a familiar 4 quadrant scatter plot. Features in quadrant 4 are relatively inexpensive to facilitate and greatly increase the user experience of your site visitors. The more often they visit your site and the longer they stay to engage, the more valuable a tool it becomes for your business.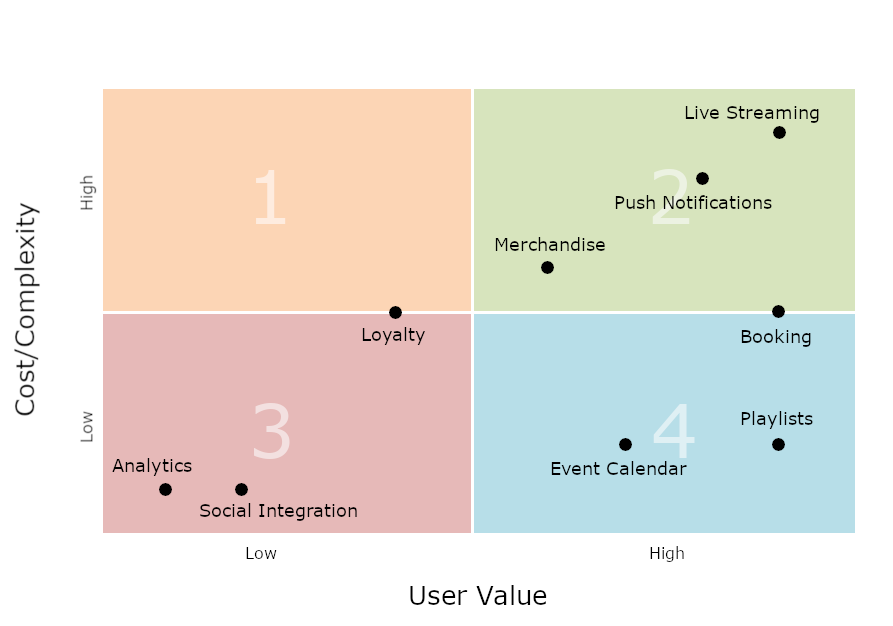 Now,let's examine each of these features in detail.
Analytics & Insights
Web analytics tools like Google Analytics (GA4), MixPanel or Crazy Egg generate valuable data for your business. This data can be used to make smart decisions about site design, content creation, marketing, and strategy to maximize the growth and success of your business.
What city should you add to your tour schedule next? Geographic & demographic data inform you about the people visiting your site; where are they and what their interests are.
Crazy Egg has an easy to use heat map feature that will help you visually identify what parts of your website are getting attention and what parts are not.
Connect Google Analytics to your Google Ads account and see the full picture of how your digital marketing campaigns drive traffic and conversions on your site.
Social Media Integration
This one is a no-brainer. Integrating social media on your site helps you can connect with fans, promote events, and drive traffic to your website. This is one of the most basic features and is supported by all web hosting platforms.
Event Calendars/Schedules
The key goals of an event calendars/schedules feature would be to allow your fans to easily see when and where you're performing next, add forthcoming gigs to their own calendar, and receive reminders so they don't forget. Detailed information about each event would help your fans make plans, and calendar integration would ensure that they don't miss out on any shows.
This feature would be a valuable addition to any DJ app or online presense. It would be a convenient way for you to keep track of your schedule and share it with fans, and it would be a helpful way for fans to stay up-to-date on their favorite DJ's upcoming shows.
Music Playlists
Playlists on your website give fans another way to engage with your brand between gigs. Social features let fans share your latest mixes and favorite tracks with their frends. Services like Spotify and Apply Music give you easy tools to embed a custom player right in your squarespace site.
Push Notifications
The goal is to re-engage fans by providing timely, relevant notifications that are customized for their interests. This helps to build a strong relationships with your audience bookings, ticket sales, or merchandise sales.
Push notifications are the first feature on our list that isn't free. Sending push notifications to your fans requires a separate service from your website hosting platform. The cost of sending push notifications varies depending on the number of recipients, device type, and content. For example, sending a push notification to a large number of mobile users is more expensive than sending a push notification to a small number of desktop users.
Merchandise Sales
Web hosting platforms like Wix, Square Space, or WP Engine offer ecommerce functionality out of the box. Some business owners choose to build their site on dedicated ecommerce platforms like Shopify, BigCommerce or Magento. When planning your online storefront, there are several key issues to consider. The big ones are obvious. How will you calculate tax and take payments? How will you get your product to customers? Payment processing is fundamental. Consider transaction fees and processing rates. Another consideration is the user experience for yourself to manage the store. The platforms named above offer tools for merchandising your store and managing product promotions. Platforms like Shopify and Magento offer a third party marketplace enabling you to add features like delivery tracking, product returns & customer service.
Loyalty/VIP Access
Who doesn't want to feel like a VIP? Deepen relationships with your biggest fans by activating a loyalty program on your website. Exclusive content, contests & giveaways, merchandise discounts; the goal is to incentivize fans to engage both online and IRL.
Booking
Finding consistent gigs has to be the chief concern of any professional DJ regardless of notoriety. Does your website generate leads? Consistent and thoughtful social media posting is driving potential customers to your site which, fortunately, has exactly what they need to easily submit a booking request. A calendar view clearly communicates the dates you are open for gigs. Do you require a down payment? Just include a payment field in your booking form. This is the power of an effective online presence; vetting potential customs 24 hours a day.
Overall, an online booking system provides 24/7 booking access for leads and streamlines the DJ's back-end workflow to convert more inquiries into booked events. It also provides valuable customer data.
Live Streaming
Live streaming your sets directly from your website provides an opportunity to expand your reach while collecting valuable data about the location and interests of viewers. In general, a consistent schedule will increase engagement with your brand.
While Twitch and Youtube are titans in the live streaming market, platforms like Restream offer you the power and flexibility of streaming to Twitch, Youtube, Facebook Live and others at the same time. Resteam even offers multi-platform live chat in a single window!
With the right strategy, live streaming from your website provides engaging experiences for fans while opening up new promotional and monetization opportunities.
Summary
So, there is a ton of information for you, probably too much. What website features give you the most value? We explored a few. Which features should you look to build out first? The ones with the lowest relative cost / complexity and the highest positive impact on user experience. Remember, the more often a visitor returns to your site to engage, the more valuable your website is to your business.